In case you weren't aware yet (where have you been?). The U.K is experiencing somewhat of a heatwave. In a fashion rather untrue to British form summer arrived early, and, even further from British form, it seems like it's going to be sticking around for quite some time. However, and entirely faithful to form, the British public are starting to complain about it.
There's only so much one can do to avoid the heat in London, air con is sparse, and with public transport as busy as always London is officially burning up! Thankfully, our roses are roses that can always stand the heat.
So, if you're looking for flowers this summer think OnlyRoses. Our Infinite Roses not only last up to a year (without water) but they can also withstand temperatures of up to 40 degrees, and no matter how optimistic we can be through winter, London certainly won't be getting that hot. Why risk sending a luxury floral gift that won't arrive as beautiful as when ordered when we can guarantee our roses will?
Infinite Roses aren't just the ideal summer gift; they're also perfect for keeping your office space looking beautiful. Summer means wilting office flowers, and this is never the case with our Infinite Roses, they're not only beautiful, but you won't be paying to replace them every few days.
Finally, it's not only our Infinite Roses that have the edge during a heat-wave our Classic Roses do too, providing our care tips are followed. This is due to the fact that we ship directly from the farm to store, we can't increase their natural lifespan, but we can ensure they're as fresh as possible when they arrive at your door.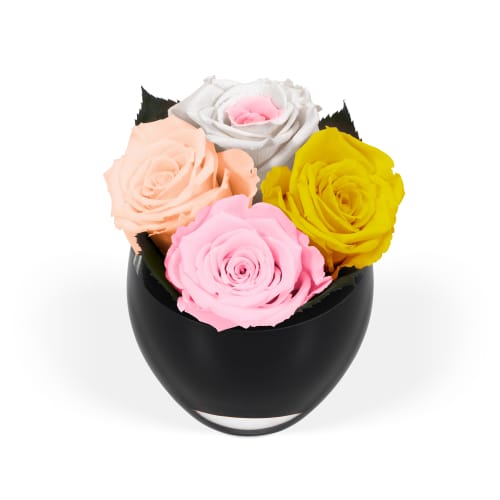 Let's look at our top picks for the London heat-wave!
Four stunning Infinite Roses presented in a beautiful black crystal vase. Choose from a single colour, we recommend on our citrus brights for the season or a mix of your choice! This arrangement arrives in a gorgeous black presentation box to complete the ultimate summer gift.
The Infinite Rose Cube is six stunning Infinite Roses presented elegantly in a cube vase. Choose from a silver cube or black crystal cube, each option as beautiful as the other. This must-have not only looks gorgeous but travels perfectly in a luxury presentation box. Think bright, vivid colours to capture the spirit of the season.
This is the perfect gift to let that special person know you're thinking of them this summer. A single long-stemmed Infinite Rose, presenting that classic sentiment that still carries with it that
same levity it always has done. It's also available for nationwide shipping so you can tell them you're thinking about them, no matter where they are.
So, Whether you're spending summer in London or travelling to escape the heat think of OnlyRoses, beautiful roses, whatever the weather.