The Infinite Rose Luna is one of our latest and greatest. A new take on our beloved InfiniteRose and the perfect gift this fall. Think Dark Chocolate, Pumpkin, Blueberry or Crimson tones displayed perfectly within a gorgeous silver vase. The Infinite Rose Luna is the little luxury to share this season!
Nothing says style so much as our slice of New York luxury, the Classic Rose Manhattan. It's stylish all year round, but, for this season, you're going to want to go with the orange. Why? Vivid Classic Roses contrasting against a black, hat-style presentation box not only says autumn but makes for a luxury gift that's always in vogue.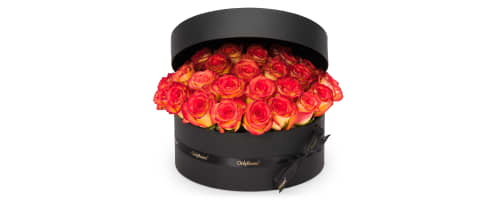 Embrace the last few drops of summer with the Knightsbridge version of our Classic Rose Boulevard. A stunning mix of orange, yellow and green Classic Roses nestled elegantly in one of our delightful hat boxes. Just because the weather's turning doesn't mean we have to say good-bye to all things bright and beautiful, hold onto summer with the Classic Rose Boulevard Knightsbridge.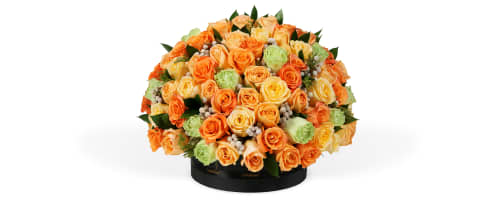 Think pink this season with the Classic Rose Aurora from our esteemed luxury collection. This arrangement is total autumn opulence, a magnificent double waisted vase complete with our stunning Classic Roses! Aurora makes for a centrepiece that deserves to be seen all year round, but, if it's just for autumn... Think pink!
1. Infinite Rose Lady Jane
Luxury Roses always deserve a perfect home to match and Infinite Rose Lady Jane is no exception! This is our latest release and must have for the season! Infinite Rose Lady Jane captures the essence of autumn romance... Think falling leaves, beautiful scenery and most importantly Infinite Rose Lady Jane. Now in our long-lasting Infinite Roses so you can enjoy it all year long.